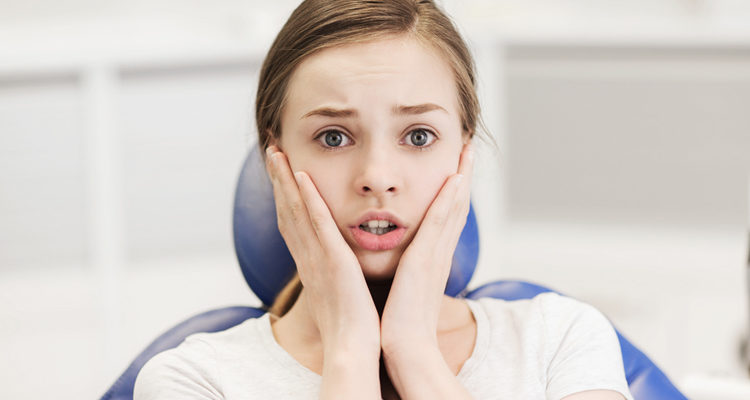 09 Mar

6 Tips to Conquer Your Dental Anxiety

Going to the dentist can be a source of real anxiety and fear for many people. Statistics Canada noted that a staggering 40% of Canadians have some fear of going to the dentist. This fear can be extremely detrimental in making sure you are properly taking care of your teeth.

Fear of the dentist will cause people to avoid the dentist, even for check-ups, which can have an adverse effect on your overall oral care. Often, the people who are afraid of the dentist are the ones who most urgently require oral care. Here are some of our top tips to help you overcome your dental fear and take back control of your oral health:
1) Acknowledge the issue
When was the last time you went to the dentist? If the very thought of sitting in the dental chair gives you chills, then it's time to recognize that you have a problem and that problem needs to be solved. As scary as it might be, by acknowledging your fear and committing to overcome it you are taking the first steps towards solving the problem and getting back on the path to great oral health.
2) Be honest about your fear
The first thing to do is make an appointment to meet with a dentist to discuss your anxiety. When making the appointment, mention your fears and that you just want the first meeting to be a discussion. Chat with the dentist about your fears and any potential triggers to get to the root of the problem. By making the dentist aware of how you're feeling and why, they can accommodate you by modifying your dental treatment to find what works best for your needs.
3) Find a dentist who will put you at ease
At McAllister Dentistry, we are confident in helping even the most anxious and nervous patients find ease and calm in the dental chair. We provide full transparency in a relaxed and calming environment guaranteed to alleviate dental anxiety and dental fear.
4) Take a family member or friend with you
Having a familiar face in the dental office may help relax you and allay some of your fears. Ask your dentist if you can have a friend or family member who is aware of your fear to come in with you for moral support.
5) Consider listening to music
Sometimes the sound of the drill, or other tools the dentist may use, can be unnerving and exacerbate your fear. Consider bringing along some headphones to your appointment and listening to a relaxing playlist on your phone as the dentist works.
6) Use a signal
Come up with a nonverbal signal that you can relate to your dentist when you're feeling too overwhelmed. By knowing when your stress levels are reaching their maximum, the dentist can stop and give you some time to compose yourself. Having a signal will also help you to feel that you are in control of the situation. Be careful not to push yourself if you're uncomfortable, as this will only serve to enforce your negative feelings about the dentist. Don't be afraid to stop and ask for a break if you need one.
Ready to take the first step in conquering your dental anxiety? Give the team at McAllister Denistry a call today, and let us help give you peace of mind about your oral health.